Last week, Willem and I ran our People vs. Process: Cultural Patterns of Software Organizations session for the first time. We received very good feedback from the people at Atos Origin, it helped us a lot in improving the session.
We originally proposed the session as a presentation, but we couldn't resist making it a bit of a workshop by adding a number of exercises.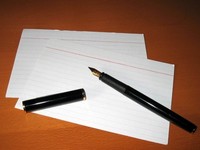 Next week, we'll run a shorter version of the session at XP Days Benelux. A few days later, we'll do the long version at the XP Day conference in London. If you'd like to learn about different organizational culture patterns and how you can use this knowledge to make your agile initiative more effective and sustainable, join us at one of the two conferences. XP Day London has already sold out, XP Days Benelux has a few places left.
We'll put the slides online after we've finished refactoring the presentation. If you're interested in having the People vs. Process workshop in your organization, don't hesitate to contact me.